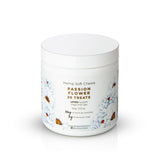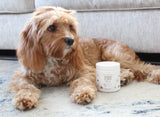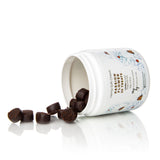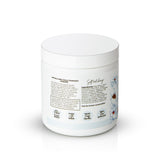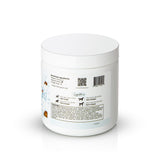 Passion Flower and Ginger CBD Treats 150mg
🔒 Secure Payment 🚚 2-5 Day Delivery
👍🏻 30 Day Money Back Guarantee*
*Not applicable on discounted items
&nbsp
Is this the right product for your pet? Talk with one of our experts for consultations.

&nbsp
Our unique treats are made with all natural and non-GMO ingredients! DOGS as well as CATS love our treats and their delicious cheesy flavor! Our treats include a combination of powerful ingredients that will keep your pet happier and healthier! 
OUR TREATS:
Use Hemp derived from US-grown industrial hemp

Are 100% human-grade ingredients sourced in the US

Use real ginger perfect for pets with sensitive stomachs or nausea 

Are lab tested for safety, purity, and potency

Are non-GMO

Are soft and chewy and therefore ideal for older pets and cats! 
150mg per bag! 
30 treats per bag!  5mg  per treat!  
Instructions: repeat serving every 6-8 hours as needed. 
Pets less than 15 lbs: Get 1 treat

Pets from 15-30 lbs: Get 2 treats

Pets from 30-50 lbs: Get 3 treats

Pets from 50 plus lbs: Get 4 treats 
Beneficial ingredients: 
Full Spectrum Hemp: Has been shown to help with anxiety, general pain and inflammation, joint pain, nausea, aggression, allergies, eczema, psoriasis, seizures, responsiveness and more!   
Passion Flower: Is a natural stress reducer, good-mood booster and improves sleeping patterns. Great for separation anxiety.​
Valerian Root: Is a natural way to treat aggression and help reduce anxiety.
Ginger Root: Helps with nausea, bloating, inflamed joints (arthritis), anti-inflammation and heart-worm. 
All ingredients: Rice Bran, Cane Molasses, Rice Flour, Water, Tapioca Starch, Cheese Flavor, Lecithin, Safflower Oil, Glycerin, Passion Flower, Valerian Root, Ginger Root, Ascorbic Acid, Sorbic Acid, Calcium Propionate, Photocannabinoid (Hemp Oil) and Vitamin E
Delicious treats for both dogs and cats
Ginger, passion flower and 5mg of CBD per treat is the perfect combination to boost your pet's inmune system and help with any kind of discomfort. 
Tranquility and Comfort is key for healthy lifestyle. If your baby is having digestive issues, stress, sleeping problems or some other type of discomfort this is the treat for him! Our Full Spectrum CBD Soft and Chewy Passion Flower Treats can help your dog or cat stay happy and healthy forever!