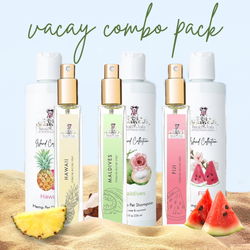 Vacay Combo Pack
🔒 Secure Payment 🚚 2-5 Day Delivery
👍🏻 30 Day Money Back Guarantee*
*Not applicable on discounted items
&nbsp
Is this the right product for your pet? Talk with one of our experts for consultations.

&nbsp
THE WHOLE ISLAND COLLECTION for serious Petals and Tails fans ONLY!! 
3 shampoos and 3 hydrating misting sprays!
Our summer collection features 3 tropical islands and their national flowers and fruits!!!
This summer your pet will be flown to these sunny and tropical destinations! there they will enjoy eating fresh fruit and savor sweet coconut water. They will hike through the mountains in Hawaii, swim in the crystal clear waters of the Maldives and go river rafting in Fiji!
Watermelon, Pineapple and coconut!!! the most tropical and dreamy scents for your pup this summer!! 
Plus: They hydrate the skin and coat!! 
Get them all and SAVE!! 
SAVE 20%!!!