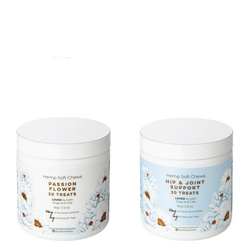 The TREAT YO SELF pack (save 15% off)
🔒 Secure Payment 🚚 2-5 Day Delivery
👍🏻 30 Day Money Back Guarantee*
*Not applicable on discounted items
&nbsp
Is this the right product for your pet? Talk with one of our experts for consultations.

&nbsp
Hemp Pet Treats - Regular and Hip and Joint
If you spoil your pets on the daily! This pack is for you! Not just one bag of treats but two! Ideal for pets with both hip and joint issues as well as other conditions such as nausea, pain or digestion. Great for prevention as well! 
Hemp Pet Treats - 150mg
Our unique treats are made with all natural and non-GMO ingredients! DOGS as well as CATS love our treats and their delicious cheesy flavor! Our treats include a combination of powerful ingredients that help to optimize Hemp's effect! 
OUR TREATS:
Use Hempderived from US-grown industrial hemp

Are 100% human-grade ingredients sourced in the US

Use real ginger perfect for pets with sensitive stomachs or nausea 

Are lab tested for safety, purity, and potency

Are non-GMO

Are soft and chewy and therefore ideal for older pets and cats! 
150mg per bag! 
Beneficial ingredients: 
Hemp: Has been shown to help with anxiety, general pain and inflammation, joint pain, nausea, aggression, allergies, eczema, psoriasis, seizures, responsiveness and more!   
Passion Flower: Is a natural stress reducer, good-mood booster and improves sleeping patterns. Great for separation anxiety.​
Valerian Root: Is a natural way to treat aggression and help reduce anxiety.
Ginger Root: Helps with nausea, bloating, inflamed joints (arthritis), anti-inflammation and heart-worm. 
Hemp Pet Hip and Joint Treats - 150mg
Our Joint and Hip Hemp treats were formulated especially for pets who suffer from various types of arthritis, hip dysplasia and senior pets who have a hard time getting around (limping and low energy) 
The Basics: 
150mg per bag
5mg per treat
Suitable for both dogs and cats 
Aside from the powerful benefits of Hemp for joint pain and inflammation our treats also contain:
1. Glucosamine: a powerful anti-inflammatory that will help reduce joint inflammation and pain.
2. MSM: AKA Methylsulfonylmethane, is an important building block for healthy bones and joints. Studies have shown that MSM has an important effect in improving your dog's joint pain, and it is even more beneficial when combined with glucosamine. 
3. Chondroitin Sulfate: Promotes water retention and elasticity in the cartilage, helping to ensure sufficient shock absorption and adequate nourishment of the tissues that line the joint. Chondroitin may also inhibit the production of inflammatory mediators that are destructive to the joint.
Dosing Instructions:
Pets 25 lbs and below: 1 chew daily
Pets 26-50 pounds: 2 chews daily
Pets 51-75 pounds: 3 chews daily
Pets 75 pounds + : 4 chews daily