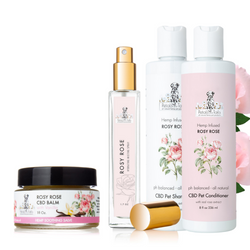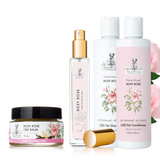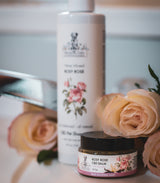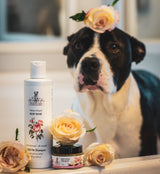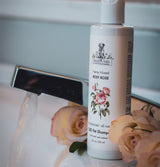 Rosy Rose Skin and Coat Health Kit (save 25%)
🔒 Secure Payment 🚚 2-5 Day Delivery
👍🏻 30 Day Money Back Guarantee*
*Not applicable on discounted items
&nbsp
Is this the right product for your pet? Talk with one of our experts for consultations.

&nbsp
Hemp Pet Shampoo and Balm
Save with our Rosy Rose Skin and Coat Health Kit!
Our kit includes: 
1 Rosy Rose CBD pet shampoo (50mg) 
1 Rosy Rose CBD pet conditioner (50mg)
1 Rosy Rose CBD balm with Vanilla (150mg)
1 Rosy Rose CBD hydrating misting spray (50mg)
model featured: @muttgang 
 Rosy Rose CBD Shampoo
Our Rosy Rose Hemp Shampoo will have your pet floating in a rose water oasis, nestled under the Egyptian sun. Your pet will take a quick jaunt to the pyramids, dabble in treasure hunting and be rejuvenated by the timeless scent of fresh roses. This formula combines Rose extract, Full Spectrum Hemp, hemp seed oil, moisturizing coconut oil, cooling aloe vera, soothing oatmeal and avocado oil to help your pet maintain a healthy coat and skin layer while also providing moisture and relief to irritated and sensitive skin.
Each of our hypoallergenic and natural shampoos comes with hemp seed oil, aloe vera, oatmeal extract, avocado oil, coconut oil, and distinct fresh and floral extracts.
Great for dogs and cats! 
Formula Benefits
Rose extract:
Not only are they beautiful, but this flower comes with amazing benefits as well! They help reduce redness and calm the skin. Plus since they have astringent and antibacterial properties. In addition, rose extract is a natural flea and tick repellent! 
Hemp Seed Oil:
Helps to make your pet's coat soft and shiny, it also acts as a healing oil for pets with psoriasis, eczema and other skin rashes while relieving itchiness and dryness (for optimal healing we recommend rubbing our Hemp oil directly on your pet's skin daily) Hemp seed oil also comes with the most perfect balance of omega 6 and omega 3 fatty acids found in nature! which makes for optimal skin absorption of all the wonderful ingredients in our shampoos.  
Oatmeal: 
Moisturizes and soothes itchy skin, helps relieve symptoms of allergies, dry skin, hot spots, helps clean and softens a pet's coat.     
Aloe Vera:
Helps hydrate the skin and coat, helps maintain a healthy skin and coat and has anti-inflammatory effects.
Coconut Oil: 
Helps to clear up skin conditions such as eczema, flea allergies, contact dermatitis and itchy skin. It also reduces allergic reactions and improves skin health while leaving your pet's fur soft and glossy.
Avocado Oil:
Contains vitamin E and Omega 3 fatty acids, which decrease inflammation in the body; while also acting as a great moisturizer for skin.
Rosy Rose Hemp Conditioner
Thick and hydrating conditioner infused with soothing oils and 50mg of CBD oil for a soft, shiny and healthy coat!!
Ingredients: Water, Polawax, Glycerin, Glycerol Monostearate, hemp seed oil, avocado oil, coconut oil, FS hemp oil 50mg, safflower oil, PVK30, Propylene Glycol, Rose extract, rose fragrance.
Rosy Rose CBD balm with Vanilla 
Our Rosy Rose Hemp Balm with Vanilla is formulated with the purest and most natural ingredients as well as 150mg of full spectrum Hemp for optimal skin healing.
Aside from its divine scent this balm is so powerful that it can help with:
Dry paws
Dry Nose
Dry Elbows
Beneficial Ingredients:
COCONUT OIL
The antiviral, antibacterial, and antifungal properties of the medium chain fatty acids/triglycerides (MCTs) found in coconut oil have been known to clear up eczema, heal skin allergies (including dermatitis and itchy skin), minimize odor, reduce allergic reactions, treat yeast and fungal infections, heal hot spots and dry skin,  help with bites and stings, and promote wound healing. 
ROSE EXTRACT:
A natural flea and tick repellent! 
Vanilla: 
Vanilla beans have antioxidants that help prevent cell and tissue breakdown, stimulate the body's natural regrowth and eliminate free radicals. The antioxidants also shield the immune system, decrease body stress, and encourage faster recovery from injuries or illnesses. 
All Ingredients:
Coconut oil, beeswax, 150mg full spectrum hemp oil, vanilla, arnica oil, essential oils, and rose extract . 
Directions:
Apply a generous amount on affected area up to three times daily and wait until absorbed. Daily application is suggested for optimal healing. This balm is safe for licking. 
ROSY ROSE hydrating misting spray 
Our brand new Rosy Rose hydrating after bath misting spray features our classic rosy rose scent with a coconut oil base, FS hemp oil, jojoba oil and rose extract to hydrate and soften your pet's coat and give him an extra boost of rose fragrance. 
Directions: use after bathing while your pet is still damp. Apply two to three sprays or as needed onto your hands, rub your hands for a few seconds and then gently massage the oil into your pet's coat.
Ingredients: coconut oil, jojoba oil, real rose extract, FS hemp oil, natural rose fragrance
1.7 oz bottle size