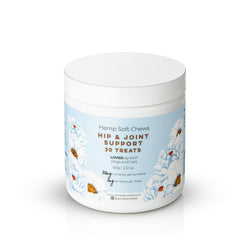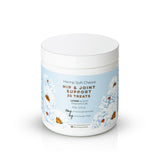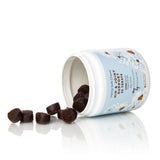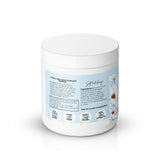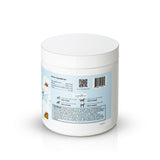 Hip and Joint CBD Treats 150mg
🔒 Secure Payment 🚚 2-5 Day Delivery
👍🏻 30 Day Money Back Guarantee*
*Not applicable on discounted items
&nbsp
Is this the right product for your pet? Talk with one of our experts for consultations.

&nbsp
Our Joint and Hip CBD treats were formulated especially for pets who suffer from various types of arthritis, hip dysplasia and senior pets who have a hard time getting around (limping and low energy) 
The Basics: 
150mg per bag
5mg per treat
Suitable for both dogs and cats  
Aside from the powerful benefits of Hemp for joint pain and inflammation our treats also contain:
1. Glucosamine: a powerful anti-inflammatory that will help reduce joint inflammation and pain.
2. MSM: AKA Methylsulfonylmethane, is an important building block for healthy bones and joints. Studies have shown that MSM has an important effect in improving your dog's joint pain, and it is even more beneficial when combined with glucosamine. 
3. Chondroitin Sulfate: Promotes water retention and elasticity in the cartilage, helping to ensure sufficient shock absorption and adequate nourishment of the tissues that line the joint. Chondroitin may also inhibit the production of inflammatory mediators that are destructive to the joint.
Dosing Instructions:
Pets 25 lbs and below: 1 chew daily

Pets 25-50 pounds: 2 chews daily

Pets 51-75 pounds: 3 chews daily

Pets 75 pounds + : 4 chews daily 
No more mobility issues! This soft and chewy treats contain the perfect blend of CBD, Hemp seed oil, and glucosamine to support your pup or cat mobility and hip and joint issues!
Don't wait for your pet to start showing signs of decreased mobility, this treats are not only great for senior cats and dogs with currently experiencing problems, but they are great for supporting healthy joints and preventing future mobility issues.