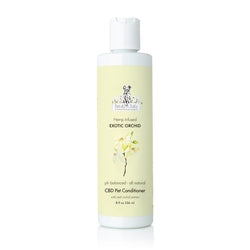 Exotic Orchid CBD Conditioner
🔒 Secure Payment 🚚 2-5 Day Delivery
👍🏻 30 Day Money Back Guarantee*
*Not applicable on discounted items
&nbsp
Is this the right product for your pet? Talk with one of our experts for consultations.

&nbsp
Treat your pet to our Exotic Orchid CBD Conditioner where he will be transported to the tropical rain forests of Brazil. There your pet will admire the lush greenery, outsmart a lemur and be enraptured by the exotic scents of the cascading yellow orchids. Our special formula combines orchid extract, 50mg CBD oil, hemp seed oil, coconut oil, safflower oil and avocado oil to help your pet maintain a healthy coat and skin layer while also providing moisture/shine and relief to irritated and sensitive skin.
Ingredients: Water, Polawax, Glycerin, Glycerol Monostearate, hemp seed oil, avocado oil, coconut oil, FS hemp oil 50mg, safflower oil, PVK30, Propylene Glycol, Orchid extract, Orchid fragrance.