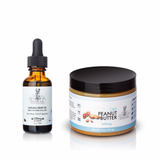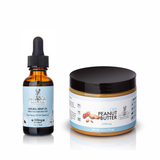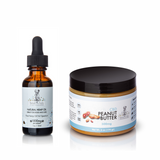 Ultimate Anxiety Relief Pack (save 30%)
🔒 Secure Payment 🚚 2-5 Day Delivery
👍🏻 30 Day Money Back Guarantee*
*Not applicable on discounted items
&nbsp
Is this the right product for your pet? Talk with one of our experts for consultations.

&nbsp
CBD Oil and Peanut Butter
Does your pet suffer from severe anxiety?? This pack is for you!
CBD Peanut Butter 500mg
Our delectable CBD peanut butter is 100% natural and comes with a powerful 500 mg of full spectrum CBD! 
Your dog can now enjoy his CBD in peanut butter form! 
Pssttt: It is safe for humans as well! 
Great for: Anxiety, General pain and inflammation, Joint pain, Nausea, Aggression, Allergies, Eczema, Psoriasis, Seizures, Responsiveness AND more!   
Oil Dropper 250mg, 500mg, or 1000mg
Meet the original Petals and Tails dropper! 250mg, 500mg or 1000mg of full spectrum CBD extracted from hemp plants grown organically in Oregon, USA. Our droppers are known for their high quality, effectiveness and overall WOW-factor when pawrents use them! Get ready to be blown away by the results! 
Our droppers contain just two ingredients: Full spectrum CBD oil and hemp seed oil! That makes our droppers 100 percent hemp! All natural, vegan and no artificial flavors or additives. 
Dropper Facts: 
CBD derived from an FDA approved hemp farm in Oregon, USA.
100% human-grade ingredients sourced in the US
Great for both

 

dogs and cats 
Hemp seed oil is used and contains omega 3 and 6 fatty acids to prevent heart disease and bad cholesterol for a healthier body
Lab tested for safety, purity, and potency
Non-GMO
Full spectrum (various cannabinoids are present) for a well rounded effect
BENEFITS OF CBD OIL:
Anxiety Relief: Helps reduce anxiety and stress. Great for separation anxiety or anxiety provoked by thunder, grooming, vet appointments, guest visits, traveling via car or plane and much more! 
Manages Pain: Helps with inflammation, and general pain. 
Digestion Issues: helps with loss of appetite, nausea, IBS, and gastrointestinal swelling. 
Seizures: Has been shown to reduce the severity and quantity of seizures in pets! no more phenobarbital! 
Great For Older Pets: Helps with arthritis and joint pain, helping with general mobility and energy. 
Post-Surgery Recovery: Anti Inflammatory properties helps with swelling, pain, stiffness. Helps recover from sprains, strains and broken bones.
Great for skin irritations and allergies: Due to its anti Inflammatory properties, CBD has been shown to speed up healing and help reduce eczema, psoriasis, hot spots, allergies and itchy skin. For optimal healing use along with our CBD shampoos! Click here to check them out! 
No Side Effects: Does not damage the liver, kidney or GI Tract like OTC medication. It can be used in conjunction with regular medications with no interactions. 
Dietary Supplement: Can be administered daily as part of your pet's diet. Because of CBD's anti-inflammatory effects, when taken daily it can help prevent disease. 
Dosing Instructions:
Use directly in pet's mouth or on top of a "little bit" of food. (it is more effective with less food so avoid giving the dose during a meal) 
Repeat serving every 6-8 hours as needed. It may take anywhere from 30 min to an hour for effects to take place. Example: Grooming visit is at 3:00pm so the correct dose should be given at in between 2:00 to 2:30pm.
If you are using our droppers for arthritis, seizures, allergies or general pain; timing does not matter and it should be given daily. 
TIP: 
Pets love our oil off of the dropper but if yours is picky, stay calm and read our tips :)
For dogs: mix with whipped cream/yogurt or put on top of a strip of bacon or any wet food.  
For cats: mix with a small amount of tuna or any wet food! Serious YUM!